Hey everyone. Just wanted to write something to let you know we're still alive. Soooo, the video for See It From Your Side isn't quite done yet. But we are on track to have it finished very soon. I won't put an exact release date on it just yet. But it will be soon. Thanks to you all for being super patient. I have seen an early version. I can tell you this thing is gonna look awesome when it's done!
Here's a few pics from the day of the shoot –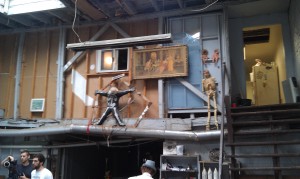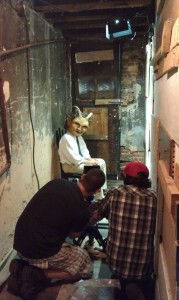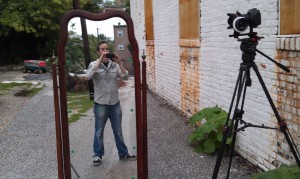 You see the green dots all over the mirror in this picture? Those are essentially serving as a green screen. A lot of the video is centered around the mirror in this picture. The kiddie wagon in the background has nothing to do with it though.
We've also set up a newsletter. You can sign up for it by clicking here and filling out the form or by entering your email address in the box in the sidebar on the right. And as a way of saying "Thanks", you'll receive a free mp3 download of See It From Your Side when you sign up for the newsletter.
Til next time…