I would be remiss if I didn't mention our friends Radio TFSC here. Staunch supporters of independent music, this is a great station for bands and artists looking for some online radio airplay. Not only do they feature unsigned and indie music in rotation, but you'll hear plenty of prominent mainstream acts on their station, too.
They're also really active on Twitter, always tagging bands that will be played in the upcoming hour. Sometimes they'll get really creative with their Tweets: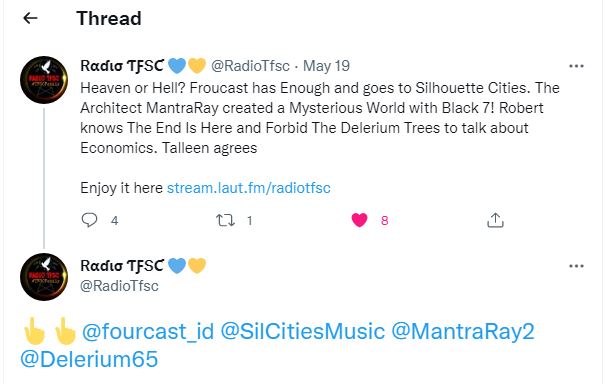 And the love is always reciprocated, with bands sending back Tweets of appreciation and memes. It's a good way to get some conversation going among the bands being featured on the station.
Station head Oli, and the Radio TFSC team have been great to us. They've kept us in steady rotation all this year, and we couldn't be more appreciative! Tune in over on their site radiotfsc.com.